Yungblut Meats
Providing the highest quality locally sourced products and cuts of meat.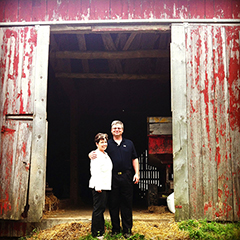 For over 30 years, Tim & Lisa Yungblut have taken great pride in providing the highest quality, home grown, hormone free beef and locally raised pork and chicken. Nestled on a beautiful farm just outside of Tavistock, this family owned and operated local meat business provides custom cuts of beef and quality service to both the wholesale and retail customers. Yungblut Meats offer a range of products including specialty burgers, custom cut meats, and pork and chicken products.

We are proud to provide our customers with local, farm fresh products, that taste delicious.
-Tim Yungblut

---
Contact Info
Tel: 519-462-2928
Mail: tlyungblut@everus.ca
Address: 496745 10th Line Tavistock, Ontario N0B 2R0